Expert Concrete Stamping in The Western Slope of Colorado
Enjoy the appearance of hand-laid masonry with the durability and affordability of concrete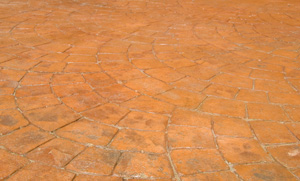 Creativity with concrete. Thanks to a variety of mold patterns and coloring techniques, stamped concrete provides an endless variety of decorative surface treatments.
With concrete stamping solutions from Defender Concrete Solutions, the options are endless. Whether you are installing a new patio or restoring an existing one, our experts can help make sure your stamped concrete will last.
Stamped concrete rocks! That's the opinion many people share when they discover the versatility, beauty, and affordability of this innovative paving technique. Contact Defender Concrete Solutions today to get started with a free design consultation and estimate.
In addition to stamped concrete, we specialize in a variety of concrete repair services, including concrete pouring, concrete grinding, resurfacing, and more. Call or click below to learn about all the ways we can help!
Defender Concrete Solutions proudly serves Grand Junction, Palisade, Montrose, and nearby in The Western Slope of Colorado.
Choose the design and look you like without the hefty price tag
Defender Concrete Solutions's ability to vary concrete color, texture, and pattern provides a range of stamped concrete design options, including:
Sandstone
Fan brick
Flagstone
The secret: varying pattern, color & texture
Don't settle for a dull, uniform concrete surface. Give it a unique look with concrete stamping and colored concrete!
Although the term "stamped concrete" may seem to imply a uniform manufactured product, nothing could be farther from the truth. In the hands of skilled technicians, this concrete finishing technique creates truly one-of-a-kind floors, patios, walkways, and pool surrounds.
The secret to this unique capability is in the technique itself — using different stamping patterns, combined with textured surface molds and color variations.
Colored concrete can be created by adding color with liquid dyes, pigment powders, or acid-based stains. In addition to the primary color used to stain the paving "stones" a secondary grout color can be incorporated to simulate grouted joints.
Stamping patterns vary from uniformly spaced bricks to randomly sized flagstones and cobblestones laid in fan-shaped patterns. Finally, the stamping molds also impart a variety of textures — everything from smooth tile to weathered stone.
Stamped concrete is perfect for new construction and restoration
Stamped concrete and colored concrete can be used in numerous applications. In addition to creating exterior traffic surfaces like walkways, patios, driveways, and pool surrounds, it can be used as a finished interior floor. The application technique will work in new construction and also as a resurfacing technique over existing concrete surfaces.
Free design consultation & estimates for all stamped concrete projects
Our concrete stamping and concrete repair services are available in The Western Slope area of Colorado, including Palisade, Grand Junction, Montrose, Clifton, Fruita, Rifle, Delta, Loma, Cedaredge, Whitewater, and nearby.
To learn more about the exciting possibilities of stamped concrete, call the experts at Defender Concrete Solutions to schedule a free consultation. You can also contact us online to schedule an appointment.
Looking for a price? Get a no cost, no obligation free estimate.